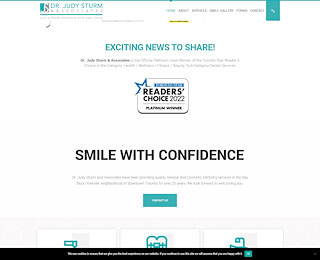 It's not easy choosing from the multitude of dental care facilities when looking for the best dentist in Toronto. If you're searching for a practice offering warm and friendly dental care with the highest level of professionalism, we invite you to consider Dr. Judy Storm & Associates. We're currently accepting new patients and look forward to the opportunity to meet your family's dental care needs.
We're Perfect For Your Family
Convenient appointment times and an accessible location are just two of the many reasons why Toronto families choose us for their dentistry needs. Early morning and late evening appointment hours evidence our commitment to patients; we've designed our office hours specifically to accommodate busy professionals. Same-day emergency walk-in visits are encouraged if you're in pain or have experienced a dental injury.
Calming Dental Anxiety
If you're fearful about sitting in the dentist chair, you'll find our staff able to calm anxiety and keep you comfortable throughout your entire visit. We've found nitrous oxide sedation is the best way to alleviate fear and eliminate the stress so often associated with visiting the dentist. Let us know at the time that you schedule your next appointment if you'd like to discuss sedation with us and we'll make a note on your patient forms. For patients with higher levels of anxiety, we'll prescribe an oral medication to keep you relaxed.
Looking For the Best Dentist in Toronto?
There are many reasons to consider Dr. Judy Sturm & Associates for your next visit to the dentist. Our reputation throughout the greater Toronto region was built on 30 years of providing quality, patient-centered dental care; in fact, NOW Magazine has rated our practice 'Best Dentist in Toronto' multiple years running. We offer you access to a wide range of services and dental procedures, laser dentistry, preventive care, digital imaging, and the best new patient experience in all of Toronto.
90% Less Radiation With Digital X-Rays
We proudly utilize the newest technology in the dental industry, including new digital x-rays that reduce radiation by up to 90%. New technology is not only safer for our patients, but it's also easier and quicker to diagnose dental issues using LCD chair-side monitors. Unlike older technology x-rays once accessed from a separate part of our facility, chair-side monitors allow our staff to review x-ray results with you and share them with dental specialists if you need a patient referral.
Meeting Your Needs in an Affordable Way
Our practice offers assistance in financing to ensure you have access to the quality dental care you need today without having to pay for it immediately. Ask our staff about financing and payment plans for all of our procedures when you call to set up your new patient appointment. Our primary goal is to make your visit with us as enjoyable and comfortable as possible- we go to great lengths to offer the kind of experience you deserve.
Dr. Judy Sturm and Associates
4169674212
77 Bloor St W #1202, Toronto, ON M5S 1M2
View Larger Map