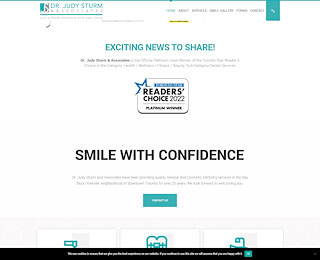 If you're searching "cosmetic dentistry in Toronto" on the web, see Dr. Judy Sturm & Associates for exceptional smile-enhancing options. You and your family can experience the convenience of visiting a full-service dental practice offering general, restorative, and cosmetic dentistry options in one office. We create beautiful, healthy smiles with a wide range of treatments designed to meet your needs.
Restoring Your Beautiful Smile
We speak with many patients who tell us their chipped or rotated teeth prevent them from smiling in social situations. If you're feeling apprehensive about cosmetic flaws in your smile, we offer many treatments to improve the appearance of teeth; bonding, veneers, and crowns are just three options to consider when looking for long-lasting results. We highly recommend scheduling a new patient consultation to discuss your objectives and determine the best course of action for treatment.
Affordable Invisalign® Clear Braces
For misaligned, crooked, or gapped teeth, innovative – and virtually transparent – braces make it possible to see significant improvements in a short amount of time. If you're a candidate for Invisalign treatment, we'll fit you with clear plastic aligners that gently move teeth into position over time without causing you to become the center of attention (for the wrong reasons) at work or around friends. Clear Invisalign is now one of the most preferred methods of straightening teeth – both adults and teens have achieved the results they're after.
Professional Cosmetic Dentistry In Toronto
Avoid the disappointment that often comes with store-bought whiteners and inferior gels by scheduling a whitening session with Dr. Judy Sturm & Associates. Toronto residents trust us for beautiful, natural white results that turn heads and make smiling an enjoyable activity. Pro-strength whitening may cost you more than over-the-counter products, however, the results are worth every penny of your investment. Just read a few of our website's reviews from patients who chose to share their positive experiences with you.
Dental Implants
If you're missing one or more teeth, we can help. We are proud to offer in-house implants that look and function exactly like your natural teeth. If you're having a difficult time deciding between dentures and implants, we invite you to schedule a consultation visit with us to discuss the pros and cons of each option to assist you in selecting the one that's right for you. Book your next appointment through our website's submission form or by calling our staff.
Comprehensive Care For Your Family
Readers of Now Magazine recently rated Dr. Judy Sturm & Associates as the "Best Dentist in Toronto," making us a city-wide winner of the prestigious Reader's Choice Award. If quality care matters to your family, consider our practice for preventive, restorative, cosmetic options, and specialty dental care, designed to meet your needs. We're up early and open late to accommodate your busy lifestyle, with walk-in visits available for emergency dental care patients.
Cosmetic Dentistry Toronto
Dr. Judy Sturm and Associates
4169674212
77 Bloor St W #1202, Toronto, ON M5S 1M2
View Larger Map