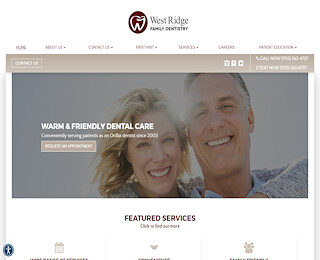 There are many reasons to consider dental implants in Orillia when searching for a solution to missing teeth. West Ridge Family Dental can help determine whether you're a candidate for treatment while you look at your options in dental prosthetics. We warmly welcome new patients into our family and invite you to schedule a consultation visit when looking into the benefits of implants.
A Beautiful New Smile
One of the most significant reasons our patients choose implants: visually stunning results. If you're currently nervous about smiling in public or reserve your best smiles for the privacy of your home, you'll want to take a closer look at how dental implants in Orillia could change your smile forever. Permanent, lifetime implants will never slip out of place, like dentures, or become dislodged while laughing or eating. You're free to smile with all the confidence in the world.
High Success Rate
Even after 20 years, more than 90% of patients experience ongoing positive results from dental implants. Since they're designed to last a lifetime, you can expect decades of reliable function and aesthetics, with no special treatment required. Brush and floss implants like your natural teeth and schedule regular cleanings and checkups at West Ridge Family Dental.
No Dietary Restrictions
With implants, you can eat the foods you love- even sticky, crunchy, and chewy favorites like apples, steak, popcorn, berries, taffy, and anything else you enjoy. With plateless implants, there's no place for seeds to hide and wreak havoc, and permanently implanted teeth will never become loose due to the foods you eat; so go ahead and order that inch-and-a-half ribeye, hot buttered popcorn during a movie, or that piece of raspberry pie you've wanted for so long.
Implants Feel More Natural
Within a few short days following your implant procedure, they'll start to feel like your natural teeth. Patients tell us that compared with dentures, implants are superior in appearance, feel, and function. With no added bulk in your mouth from denture plates, you'll start to think of implants in the same way as your very own teeth; in fact, you'll soon forget the fact that they're implants.
Single or Multiple Teeth Replacement
Whether you have a single space to fill or multiple missing teeth to replace, implants are an excellent choice. We highly recommend meeting with our staff to discuss your objectives and determine whether implants are the right treatment for restoring teeth. If implants work for you, we can show you what your new smile will look like before we even begin treatment.
Confidence Boosting Dental Implants in Orillia
We'd love to provide you with additional information on implants while you consider your options for treatment. New patients, call our front desk staff to set up your next appointment or communicate with us through our website's contact form. Stop hiding your smile- there's a treatment available that will enhance your appearance and give you back the confidence you've been missing.
Dental Implants Orillia
West Ridge Family Dentistry
7053291600
3230 Monarch Dr 3, Orillia, ON L3V 8A2
View Larger Map