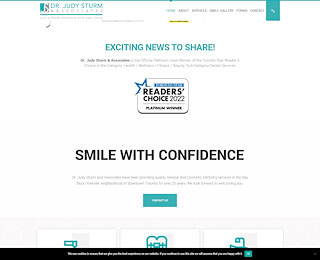 If you live in or around Toronto, you may be searching for a midtown dentist with convenient appointment times. Dr. Judy Sturm & Associates is proud to serve the Toronto community with early morning and late evening visits available to our patients. Our location on Bloor Street means you can fit your dental visit in with shopping or local entertainment while in the midtown area. Consider us for our convenience – choose us for quality dental care for your whole family.
Why Choose A Midtown Dentist?
Because your oral health is so important to your overall health … we want it to be easy for you to get to your midtown dentist for your scheduled appointment. While we don't think our patients should choose us strictly based on our convenient location in the Toronto vicinity, we do believe it should be one of your top three considerations when researching a new dentist. If you're looking for a few more reasons to choose us as your new midtown dentist, feel free to click the "Services" link to see how we can meet your needs.
Free Website Resources
Learn more about our staff, our services, and our commitment to your patient experience by exploring the resources on our site. Our Library of Dental Articles is an excellent place to start your research into our general, restorative, or cosmetic treatments and procedures. Visit our "First Visit" section for helpful information on what to expect during your initial consultation with Dr. Judy Sturm & Associates. We're just a phone call away if you need to speak with us about any of our services.
Anxiety-Free Dental Visits
At Dr. Judy Sturm & Associates, we offer sedation to patients feeling fearful or anxious about treatment. If you haven't seen a dentist in a while, we may recommend nitrous oxide, also known as "laughing gas," to help take the edge off. Speak with our staff regarding severe fear of sitting in the dentist chair – we're able to prescribe oral medication for a more relaxed appointment.
Multi-Service Dental Care
Whether you're searching for convenient access to preventive checkups and cleanings or you'd like to discuss a smile makeover with our staff, you'll find a wide range of treatments, services, and procedures available through our practice. Toronto residents trust us for lifetime dental implants, clear Invisalign® treatment, direct bonding & veneers to improve the appearance of tooth imperfections, pro-whitening for a dazzling smile, and more.
We work with many different insurance providers, offering the convenience of claim filing, financing, and competitive pricing on complex procedures. Don't hesitate to call us with your questions about services, sedation, costs, insurance verification, or anything else you can think of. We're here for emergency walk-in patients any time our doors are open.
Dr. Judy Sturm and Associates
4169674212
77 Bloor St W #1202, Toronto, ON M5S 1M2
View Larger Map