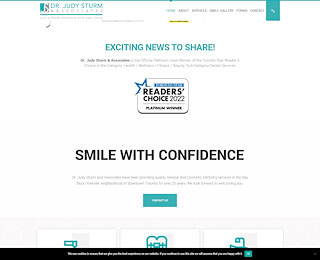 Are you searching online for a Toronto downtown dentist who will love caring for your smile? The team at Dr. Judy Sturm & Associates is ready to take your call. For several years, readers of Now Magazine have voted us "Best Dentist in Toronto." We are committed to providing Toronto residents with quality general and cosmetic dentistry.
Multi-Service Dentistry
Choose us for your family's dental care needs. Not only do we offer general services, but at our practice you will discover preventive, cosmetic, restorative, and general dentistry – all offered by a team of caring professionals in the heart of the city. We believe we can meet and exceed your family's needs with our treatment techniques, experience, and technology. We help our patients rediscover their brilliant smiles with root canal therapy, dental implants, pro-strength whitening, orthodontic care, and TMJ treatment. A beautiful, long-lasting smile will make a difference in your life.  
Convenience From a Toronto Downtown Dentist
You won't just save time by bundling your dental care services at a single location, but you'll also find that our convenient location makes it easy to plan your appointment around other errands, entertainment, or shopping excursions. We're open early and into the evening hours to better meet the needs of our professional patients. If you'd like to learn more about our practice, services offered, and results you can expect, explore our website's resources or schedule a consultation visit with our staff to talk about treatment.
Preventive Dental Care
Having access to quality preventive checkups and cleanings remains the cornerstone of excellent oral health. We'll keep your whole family's smiles looking their best with safe and trusted preventive treatments that maximize value and minimize the need for fillings and costly dental care down the road. Your preventive checkup is an affordable opportunity to allow our staff to:
look for cavities and indications of decay
inspect teeth and gums for signs of early periodontal disease
check for broken restorations or fractured teeth
screen for oral cancer
provide a thorough cleaning.
Choosing the Right Toronto Downtown Dentist
Feel free to read our website reviews from patients who decided to share their experiences in our practice with prospective patients like you. You'll find that many people keep coming back to us because we treat them like family and they are extremely satisfied with their results. For more than 25 years, we've been meeting the dental needs of the Toronto community.
Schedule a consultation with us to get better acquainted with our staff, request additional information on treatments, or discuss financing on complex procedures. You'll find us accommodating and professional from start to finish. If you're experiencing a dental emergency, call us first for pain management advice while you drive to our location – we warmly welcome your walk-in visit.
Dr. Judy Sturm and Associates
4169674212
77 Bloor St W #1202, Toronto, ON M5S 1M2
View Larger Map